BLACK DOG TAG
Regular price
$32.00 USD
Sale price
$24.00 USD
Unit price
per
Sale
Sold out
Personalize it to your liking up to 50 characters.  The black dog tag is made of stainless steel plated in black.  You can add bars for an additional cost or rectangles for names or dates.
Bars for names are not included in this listing. Each bar is $5. Only one name per bar can fit.
 *Please note Dog tag measures about 2"
We can only personalize one side of the pieces.
Stainless steel is a glossy mirror finish which can also be brushed. With its bright, silvery finish and its resistance to tarnish, stainless steel is also an awesome alternative to sterling silver.
Only the fonts that are provided under the drop down box are available for this specific piece.
Every piece is shipped ready to be gifted.
Share
Care for jewelry

HOW TO CARE FOR YOUR JEWELRY

 We are proud to share that our jewelry is made of sheet metals from the United States.  We do not outsource our fine luxurious pieces.  We handcraft them from start to finish in our home studio.

Gold & Rose Gold Filled: is an actual layer of gold-pressure bonded to another metal.  Gold filled is not to be confused with gold plating as filled literally has 100% more gold than gold plating.  Gold filled is much more valuable and tarnish resistant.  It does not flake off, rub off or turn colors.     

Sterling Silver:  is .925 or .999 silver.  It is NOT plating.  It will not flake off, rub off or turn colors. 

Stainless steel: is an awesome alternative to sterling silver.  It is bright, glossy-mirror finish.  However, it is not as dainty, soft or shinny as sterling silver.  It will not tarnish nor turn color.  It is light weight.

Aluminum : is a light weight material.  It has some shine but its not as bright and shinny as sterling silver nor stainless steel.  It is hypoallergenic, will not tarnish and will not change color.

Is important to follow these best practices to ensure the long, beautiful life of your piece

Remove jewelry during physical activities including intense cardio workouts {gym, running, etc}

Remove jewelry when using chemicals: such as shampoos, harsh soaps, lotions, makeup, hairspray, etc.  

Regularly clean your jewelry using mild soap. Pat dry. DO NOT rub.

Avoid exposure to pool, jacuzzi, or anything containing chemicals or sea salt.

Avoid abrasive materials such as a terry cloth, bath towel, and shirt to polish your jewelry.

Avoid any liquid such as water to avoid the black oxidation of the letters to fade.  The  letters, designs, and numbers will never fade as we hand stamp each piece. They are permanent.  However, the black oxidation will fade over time. On high end jewelry, we recommend you to not oxidize the jewelry.

If properly cared for, your jewelry can last for years.
Shipping

All domestic and international orders ship via United States Postal Service-First Class or UPS.

Orders ship from New Jersey, USA. All orders ship with a tracking number

Insurance is an add on option at checkout.

Please ensure your ship to address is correct before placing your order.  We are not responsible for any order shipped to the wrong address if customer inputs the wrong address or missing apartment #.  
If order ships to the wrong address due to customers mistake, once delivered back to us; we will send an invoice to re-ship the order to the correct address as we would have to pay for shipping again.

If we made a mistake in your order, we will make it right! 
Every piece is shipped ready to be gifted.
Return policy

We strive in providing excellent customer service. With this in mind, If there is a problem with your order please contact us within 3 days of receiving your order. We want to meet the expectations and full satisfaction of all our customers. We are not able to provide refunds on custom personalized orders. If the error was our mistake, we will fix it within 5 days. Please contact us at your earliest convenience.

Once an order is placed we are unable to provide refunds or cancel orders. We do our absolute best to send out the highest quality of hand stamp jewelry. We cannot remake any piece without the original piece returned.

Each custom jewelry piece is hand stamped. Slight variations in spacing and depth are not flaws but enhance the one-of-a-kind handmade nature of the piece. All designs are hand stamped by me. The letters may not line up perfectly. This adds to the charm of your piece and helps make it one of a kind.

Though all sales are final, we strive for excellence in customer service, and we do offer plenty of other solutions. However, we cannot process refunds or returns. Please see our policies page for full information.

We will not accept any returns/exchanges/refunds/credits if customer dislikes the font chosen on their order.  Please contact us if you need assistance with a specific font prior to ordering. 

We may repair and/or do a chain replacement if the clasp is faulty within 30 days of purchase.  It is extremely important you contact us immediately and send us a picture.  Repairs and chain replacements are a service we provide. Please contact us if you need a repair. Please send us an email madewithlovebyangie@icloud.comwith a picture and order number.If your necklace breaks please send us an email at madewithlovebyangie@icloud.com

We can assist you and determine what is the best way to fix the issue.  We cannot do any adjustments on items that were made with the specifications of the customer.  Unless we made a mistake and made it the wrong length.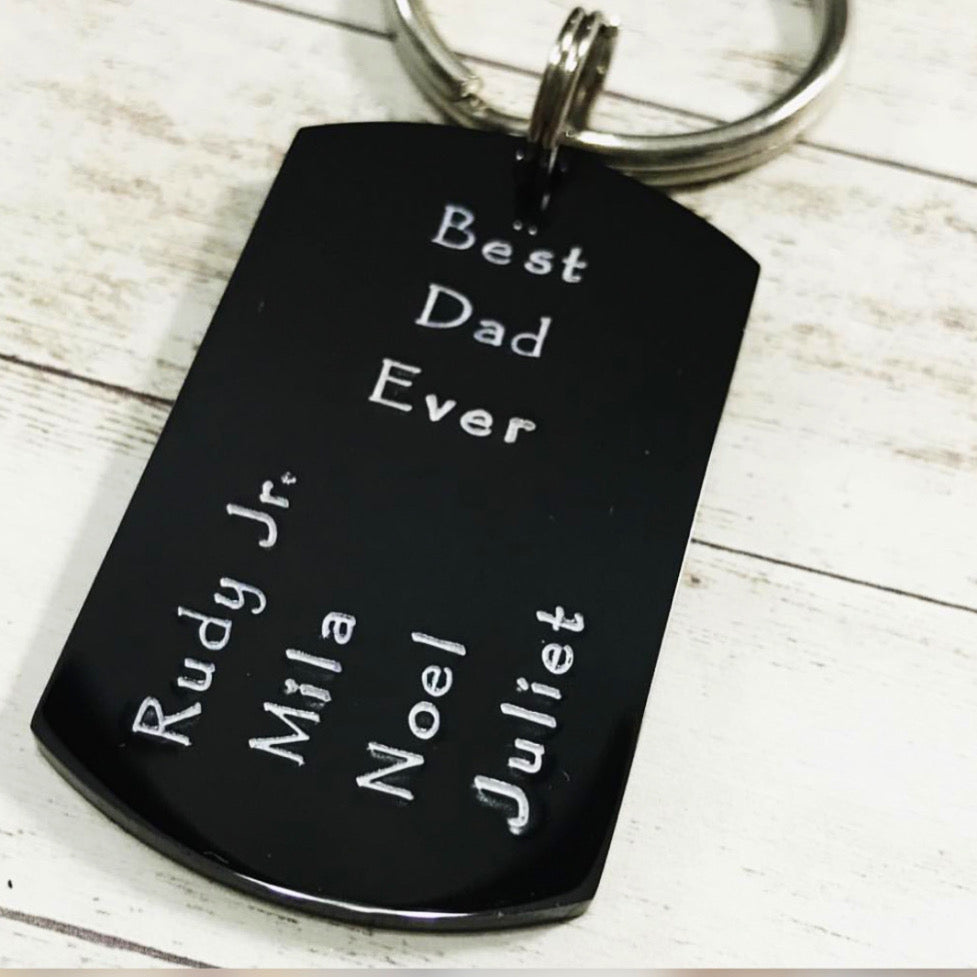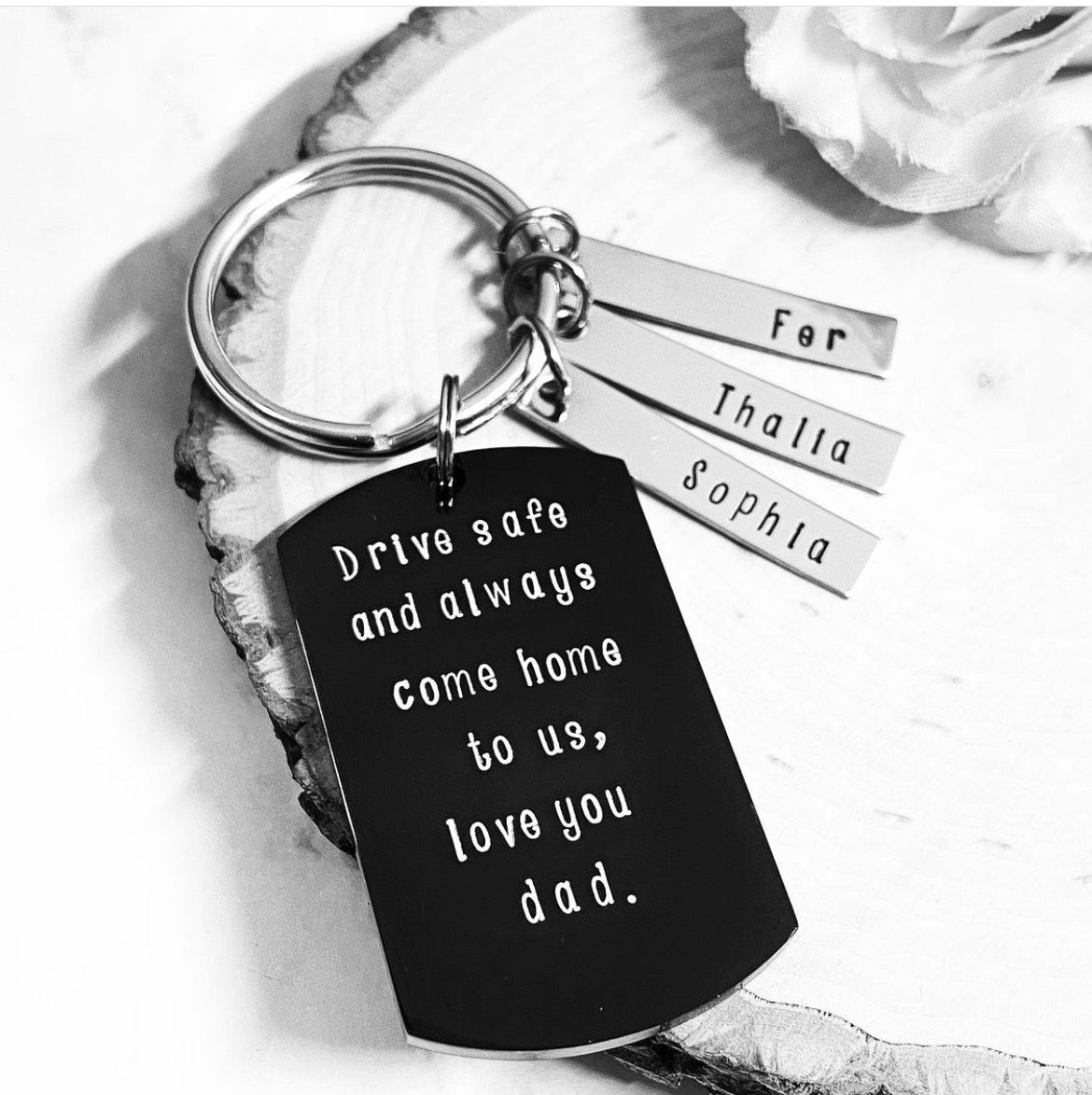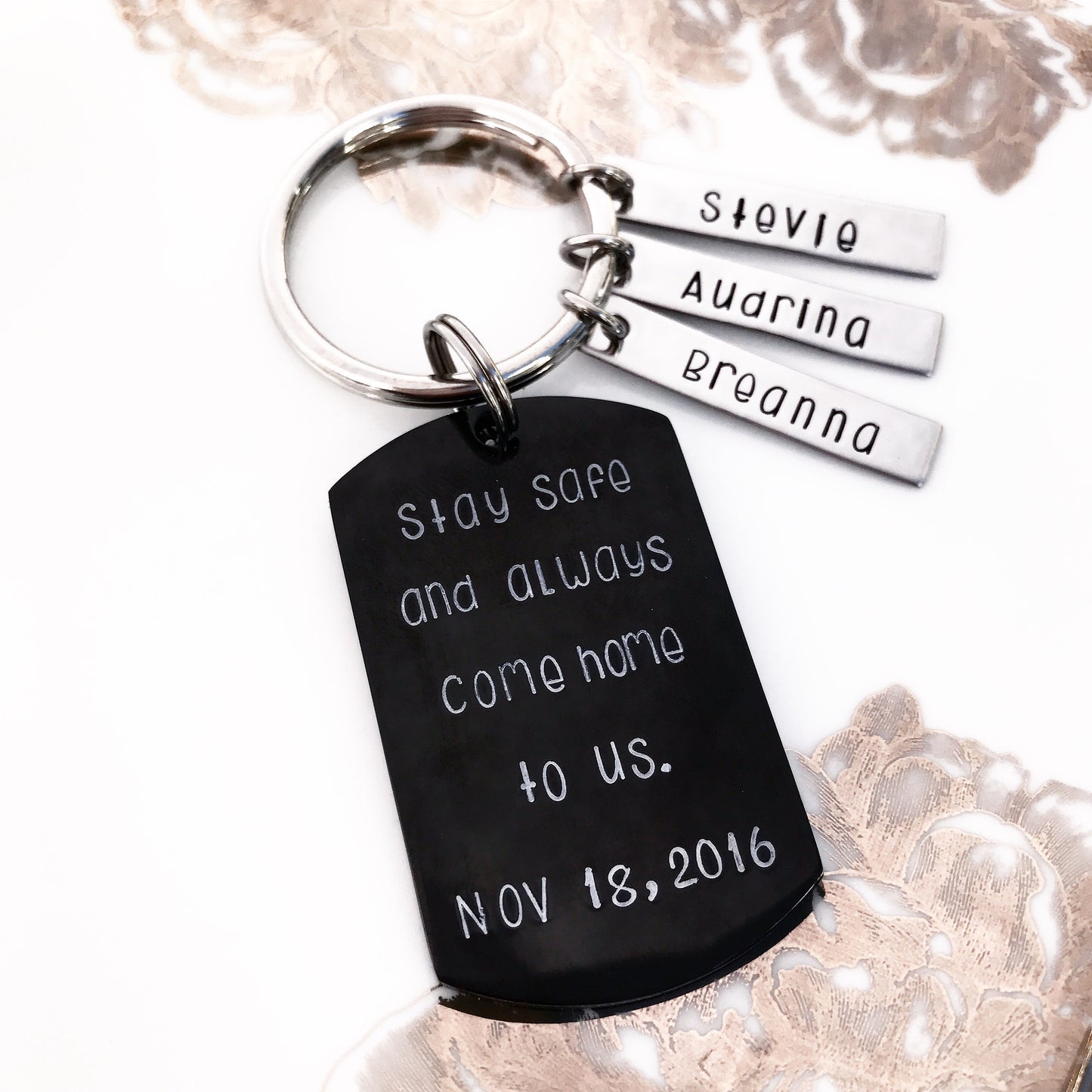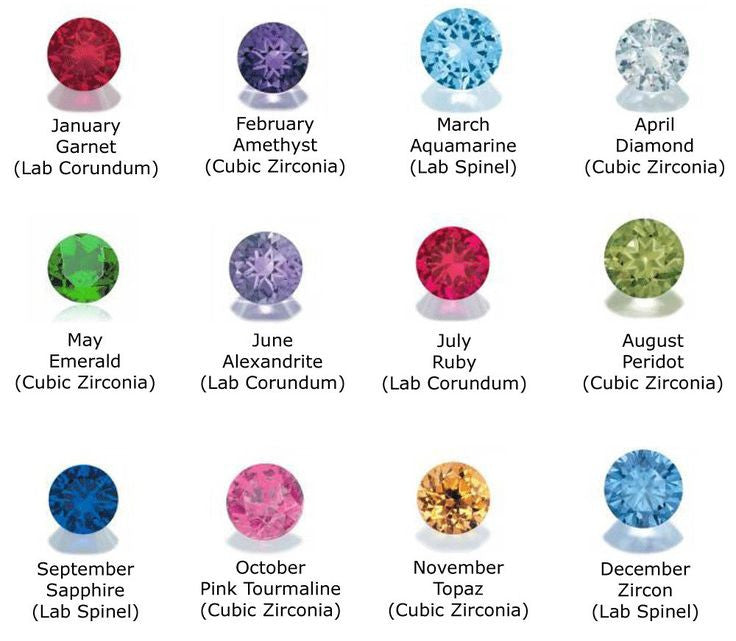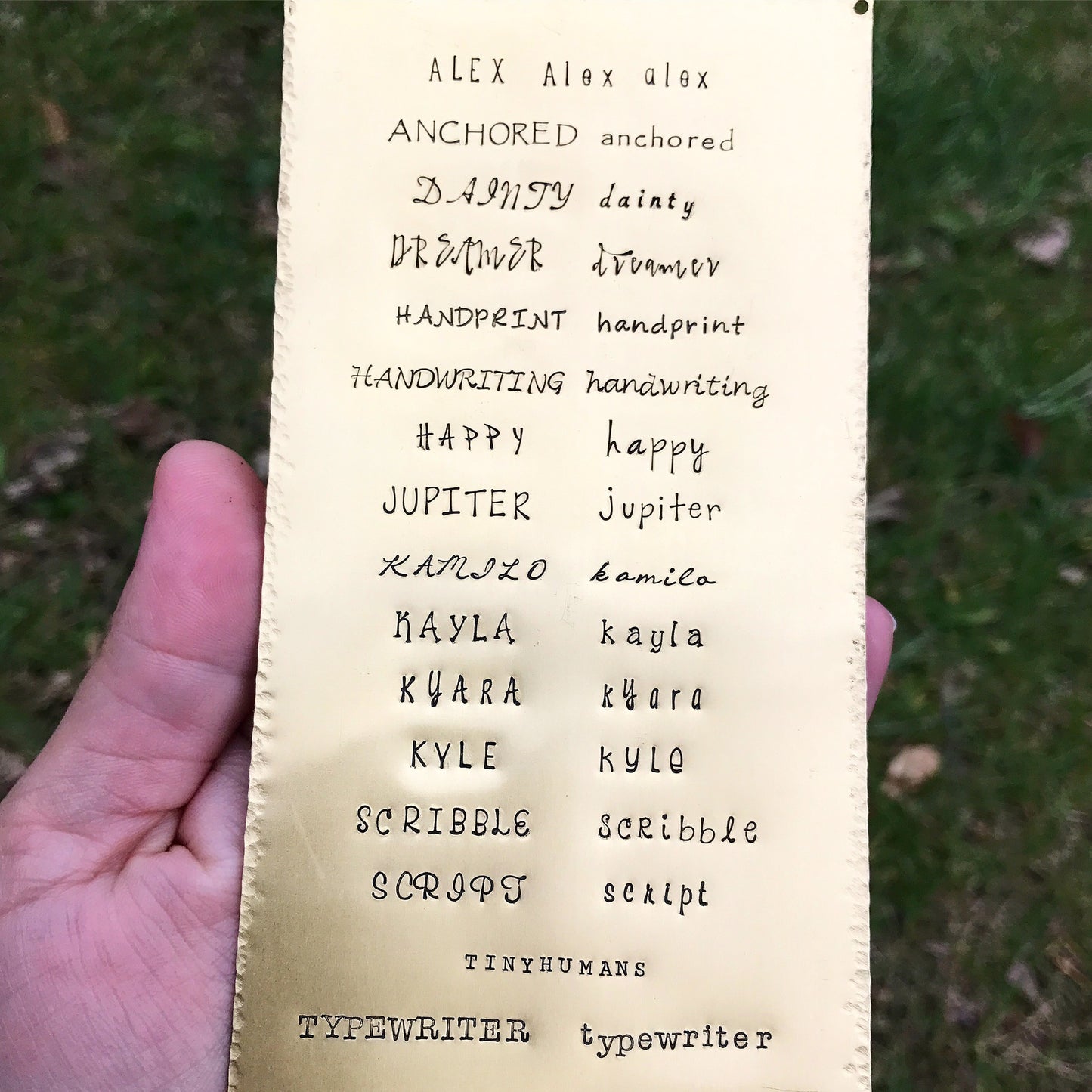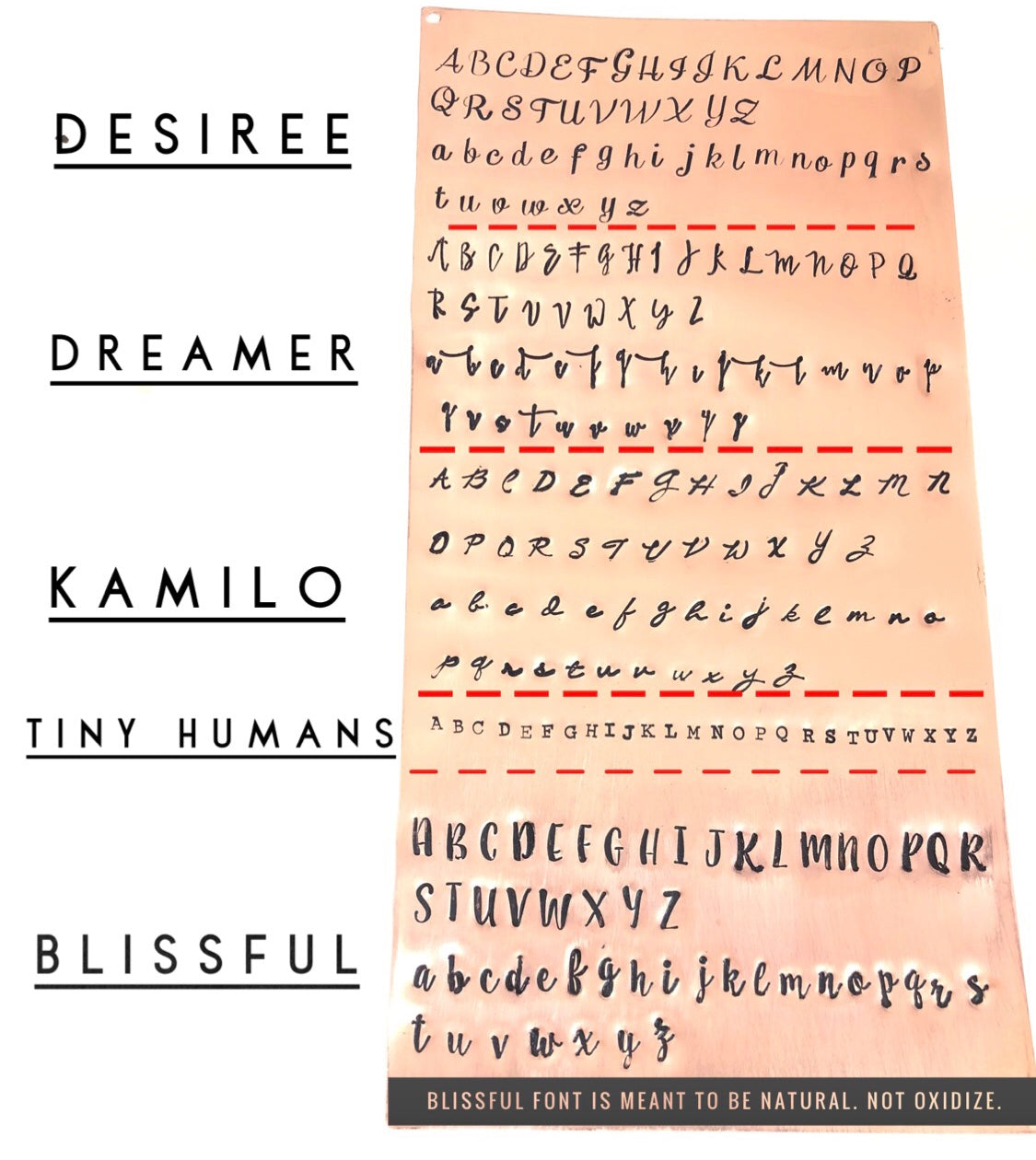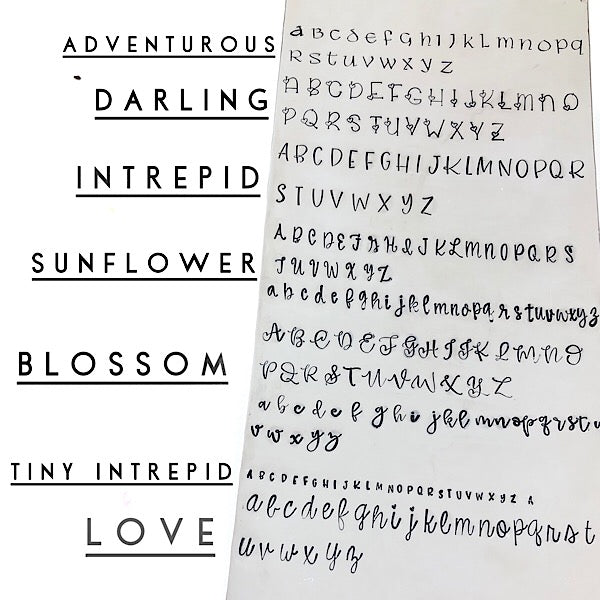 Every piece is made in our home studio. We offer different materials and budget friendly. 
You may preview the fonts with your names before ordering. 
Each piece is hand stamped.  The personalization will never fade.  It's permanent.
Our jewelry is made to cherish forever.
Thank you for stopping by and allowing us to make your special custom jewelry.